The Honours System
Nominating someone
An Honour is a distinctive way of acknowledging someone's impact on UK life and recognising that they have achieved something very special and given service above and beyond what would normally be expected of them.
They will usually have made life better for other people or been outstanding at what they do.
Across Devon there are very many people from all walks of life who meet those criteria; you may well know someone who does.
It's very easy to nominate someone and this part of the website will help you do it.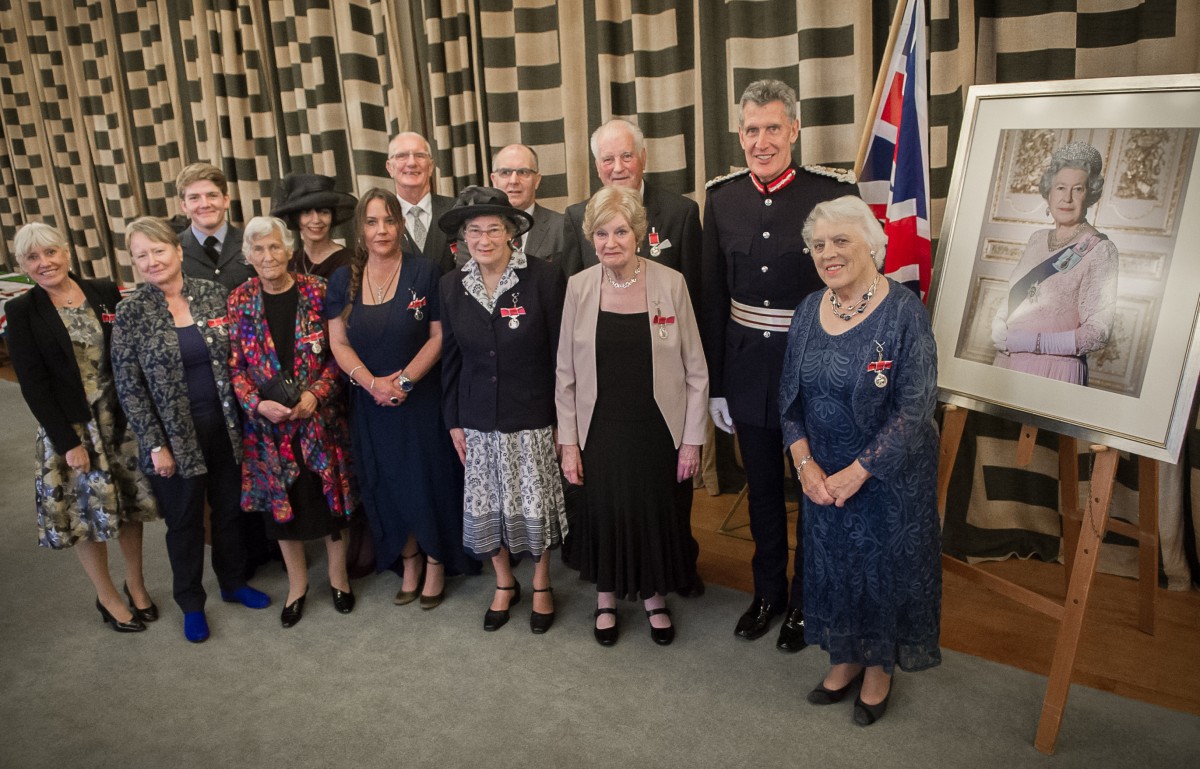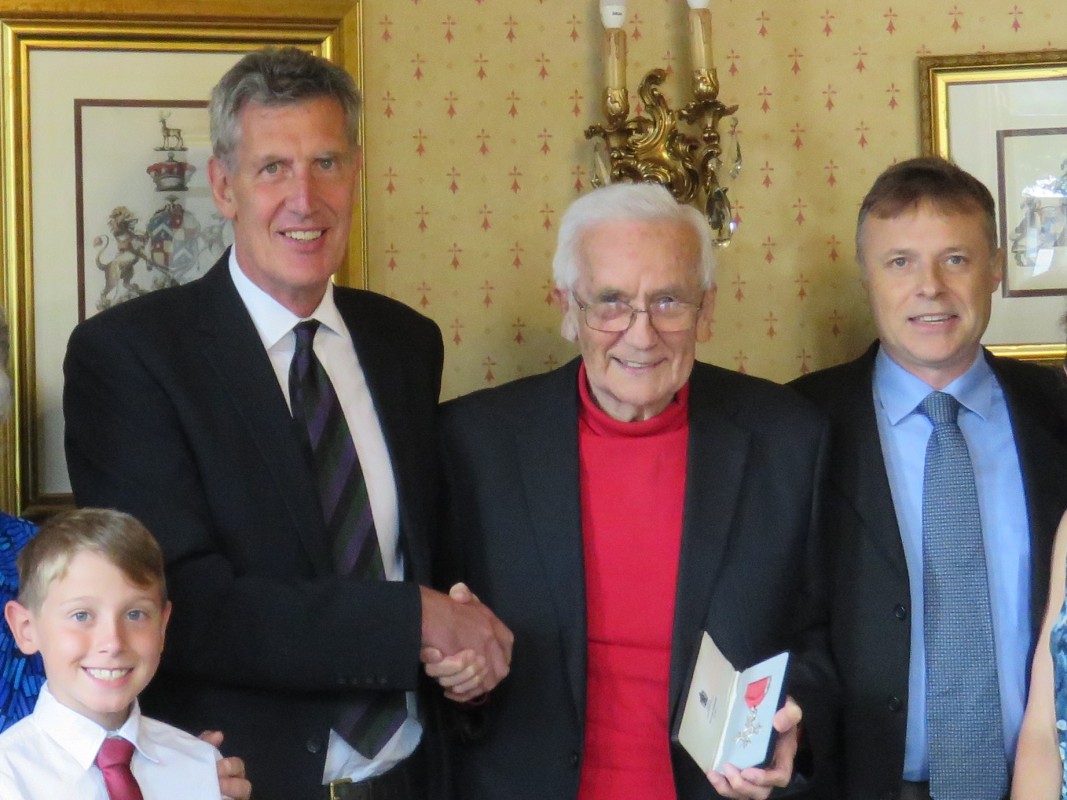 Nominating Someone
Who are national honours for?
Honours are for individuals from all walks of life who have achieved something very special. This might be at a national level or maybe for those who are well respected by local people and will have made a difference in their neighbourhood. Over half of all awards go to people who are putting something extra into the community on a voluntary basis.
People get honours for achievements like:
making a difference to their community or field of work
enhancing Britain's reputation
long-term voluntary service
innovation and entrepreneurship
changing things, with an emphasis on achievement
improving life for people less able to help themselves
displaying moral courage
Honours are given to people involved in many different fields including:
community, voluntary and local services
arts and media
health
sport
education
science and technology
business and the economy
civil or political service
National honours are for individuals, so if you are thinking of nominating a group or organisation please look at our pages on the King's Award for Voluntary Service and King's Award for Enterprise.
The Honours System
What levels of Honours are there?
When writing a nomination you don't need to say what level of award you are aiming at – this is decided by the Cabinet Office Committees when they read the nomination letters.
But as a guide the National Honours are:
British Empire Medal (BEM): awarded for very "hands-on" service to the community in a local geographical area.
Member of the Order of the British Empire (MBE): recognises an achievement or service to the community which has delivered a sustained impact, and which stands out as an example to others.
Officer of the Order of the British Empire (OBE): recognises those who have performed a distinguished regional or county-wide role in any field.
Commander of the Order of the British Empire (CBE): rewards a prominent national or regional role.
Dame or Knight: for those who have made a pre-eminent contribution in any field, usually at a national level.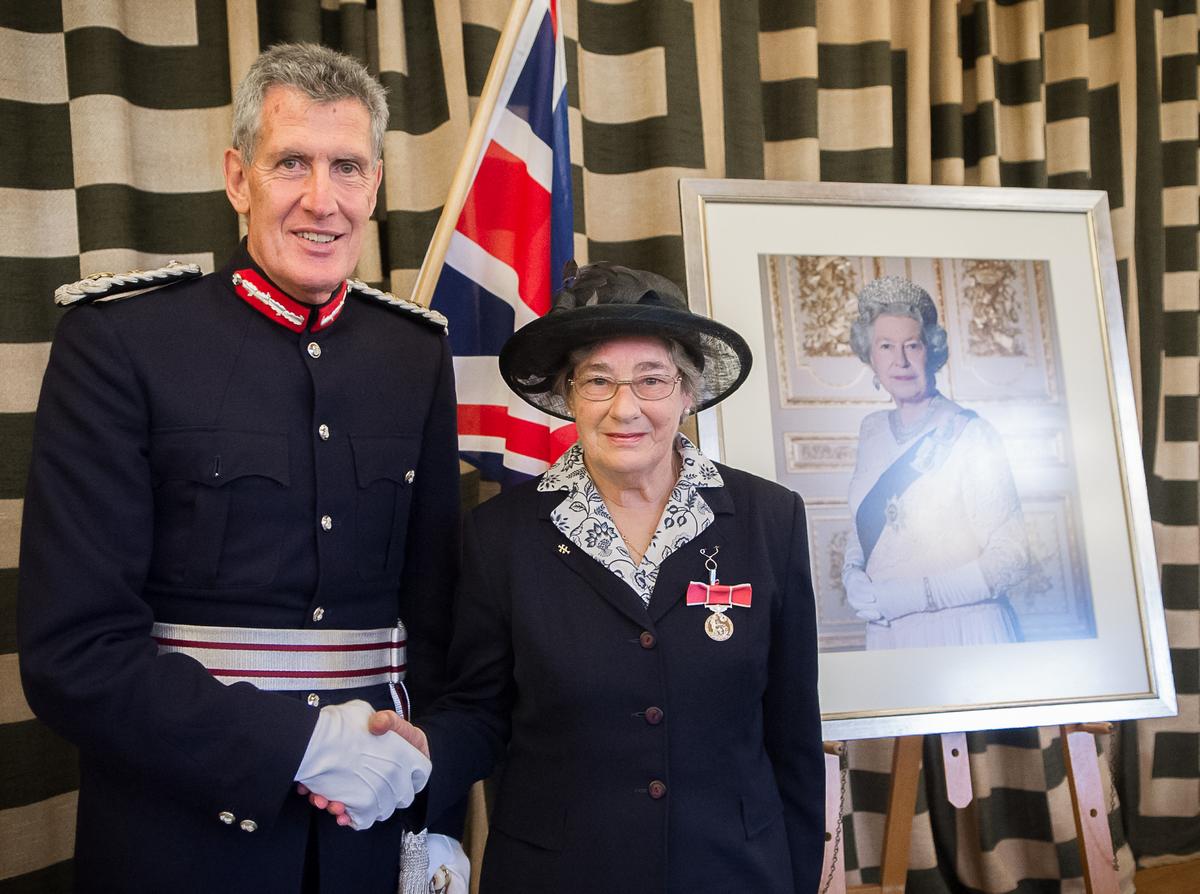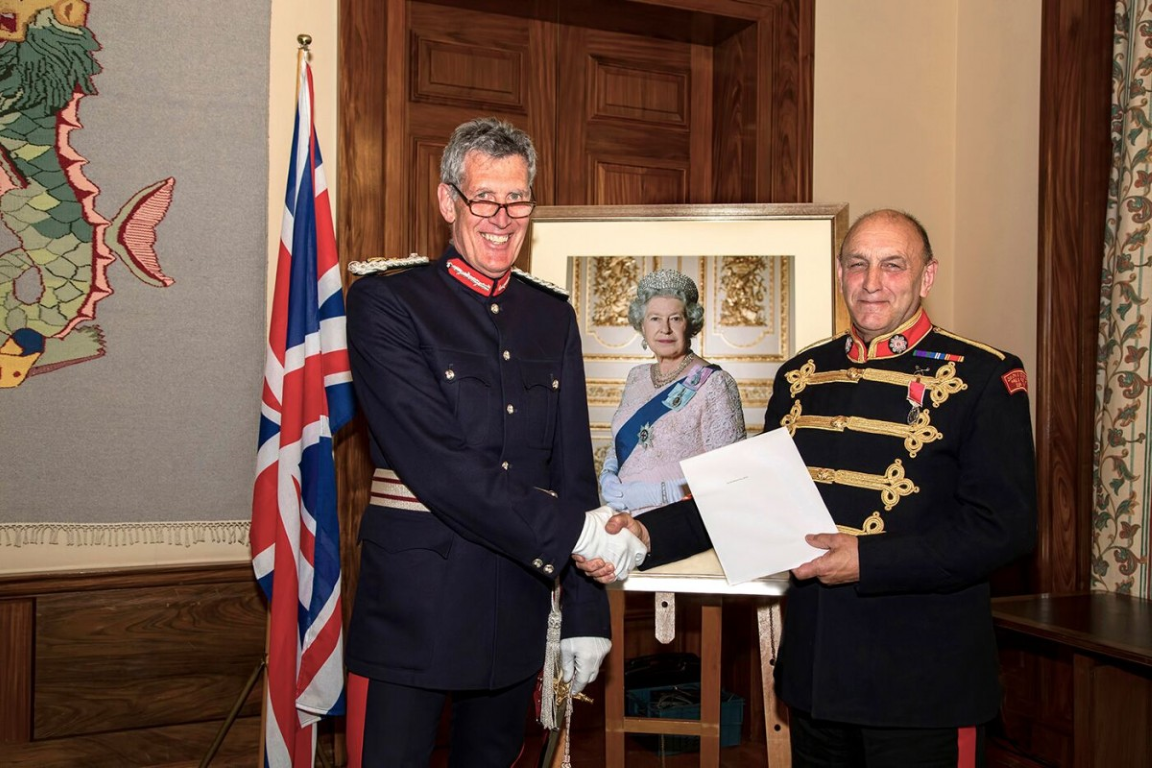 Who decides
who gets an Honour?
The nomination is assessed by one of nine specialist committees, all independently chaired, using guidelines set out by the Prime Minister. In Devon – as elsewhere in the country – the Lieutenancy is often asked to conduct local Due Diligence checks in support of the process. The nomination is then sent to the main honours committee, which is chaired by the Secretary of the Cabinet. Names, with the recommended level of honour, are then put forward to The King.
All nominations for honours are treated in the strictest confidence. It's really important that the person being nominated should not be told as it wouldn't be fair to raise expectations in case they are not met: about 1,100 honours are awarded on each occasion, twice a year, and there are many thousands of nominations received, so competition is stiff.
How Long Does It Take
between nomination and an honour being given?
Honours Lists are published in the New Year and on His Majesty's Birthday.
You can check published Lists (in the national newsletters, the London Gazette or on the honours website) to see if your candidate has been successful.
If, after three years, you have heard nothing you can usually assume that the nomination has been unsuccessful and has lapsed. However on occasions they can take longer than this.
You can re-nominate, but this is not likely to be successful unless the person you have nominated has had additional achievements.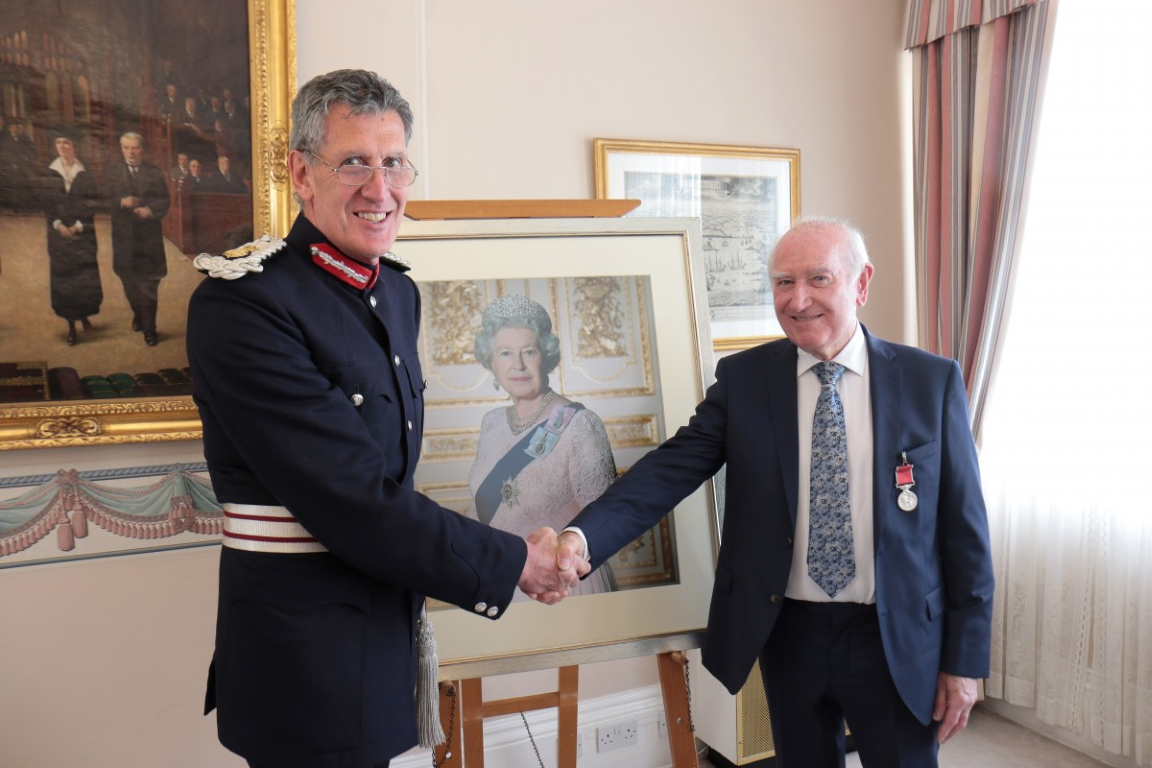 Making a Nomination
So, how do I make a nomination?
It's quite simple. You can make a nomination on line or in writing. If you click on the link below it will take you straight to the website where you can find full details of the honours system, all the forms, and a step by step guide: https://www.gov.uk/honours
You can also write for information and a form to:
Honours and Appointments Secretariat, Cabinet Office, Ground Floor, 1 Horse Guards Road, London, SW1A 2HQ.
Tel: (020) 7276 2777
Email: [email protected]
Making a Nomination
Are letters of support required?
Yes. At least two letters of support are expected and should be from others who have personal knowledge of the candidate.
Ask for letters that:
Confirm that the person is doing what they are being nominated for
Confirm that an Honour would be supported by the community
Describe recent achievements
Describe the impact that the person has had; for impact, consider what wouldn't exist or happen without your candidate's input and whether what they have done is voluntary or in a paid capacity
Making a nomination
When must nominations be sent in?
There are no deadlines for nomination forms but the process is likely to take at least 12 to 18 months.
Nominations should be made while the candidate is still active and, if possible, at least 12 months before he or she is expected to retire or stand down.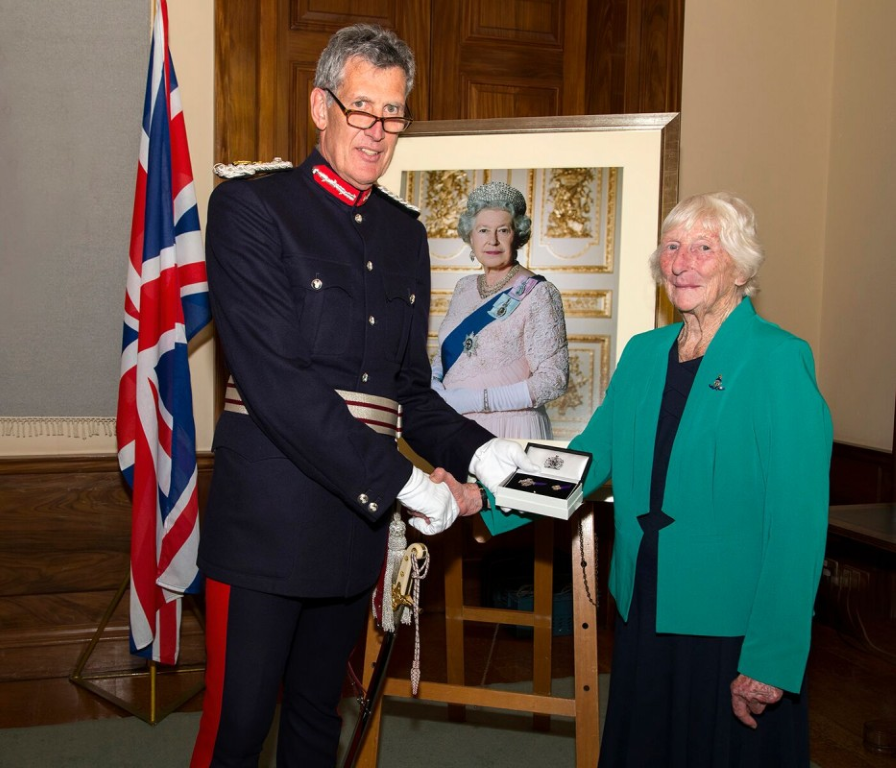 Making a nomination
Do please consider taking just a little time to nominate someone if you believe they deserve recognition. The process is easy to do and can be a really wonderful way of marking the contribution someone has made. The Lieutenancy Office can help with further advice if you would like it.
Recent Awards
His Majesty The King's Birthday

 Honours in Devon 2023

 
Commanders of the Order of the British Empire (CBE) 
Dr Peta Jane Dunckley FOXALL – Lately Chair, The Wildlife Trusts. For services to Nature Conservation
Members of the Order of the British Empire (MBE)
Julia Elizabeth ADAMSON – Managing Director, Education and Public Benefit, BCS, The Chartered Institute for IT. For services to Education
Professor Pascale Veronique AEBISCHER – Professor, Shakespeare and Early Modern Performance Studies, University of Exeter. For services to Economic and Societal Resilience during Covid-19
Vivienne Patricia BAKER – Foster Carer, Plymouth City Council. For services to Children
David Alfred BAKER – Foster Carer, Plymouth City Council. For services to Children
Susannah Jane BAKER – Co-Founder, The Pickwell Foundation. For services to Ukrainian Refugees
Marjorie Elaine BAYLIS – Deputy Regional Chair, Membership, Conservative Party South West. For Political Service
Sara Louise COX – Referee. For services to Rugby Union
Sarah Mary JAMES – Director, Craft Festival. For services to Craft
Dennis John MARDON – Chair, Citizens Advice Exeter. For services to Vulnerable People in Exeter, Devon
Gail Fiona PIRKIS – Co-Founder and Editor, Slightly Foxed. For services to Literature
Dr Shubha PLATT (SHUBHA SATHYENDRANATH) – Merit Scientist, Remote Sensing, Plymouth Marine Laboratory. For services to Oceanography
Patricia Clare SPRUCE (PATRICIA MURPHY) – Associate Director, People Services and Recruitment, Yeovil District Hospital and Somerset NHS Foundation Trusts. For services to the NHS
Medallists of the Order of the British Empire (BEM)
Margaret Francis Dorothy BOADELLA – Lately Association Chair, Plymouth Moorview, Conservative Party South West. For Political Service
Jonathan David COVEY – Tree Nursery Manager, Trustee and Treasurer, Moors Trees Charity. For services to the Environment
Thomas Stephen COYLE – War Pension and Armed Forces Compensation Scheme Advocate, RMA – The Royal Marines Charity. For services to Veterans and Serving Members of HM Armed Forces
Lynnette MCELHERON – For services to Vulnerable People and to the community in Newton Abbot, Devon
George STABLES – Boxing Coach and Official. For services to Amateur Boxing in Devon
His Majesty The King's New

Years

Honours in Devon 2023

 
Commanders of the Order of the British Empire (CBE) 
Mr Anthony George Edward ROWE OBE – Chair and Chief Executive, Exeter Chiefs. For services to Rugby Union Football and to the community in Exeter 
Dr Marcus Andrew SAMUEL – For services to the Energy Sector 
Officers of the Order of the British Empire (OBE)
Dr Ross HEMINGWAY – Civilian Medical Practitioner, Commando Training Centre Royal Marines. For services to the Royal Marines 
Members of the Order of the British Empire (MBE)
Ms Pauline Anne BARKER – Founder, Devon and Cornwall Wild Swimming. For services to Swimming in South West England 
Ms Julie HAWKER – Joint Chief Executive Officer, Cosmic. For services to the Economy 
Dr Keith HISCOCK – Marine Biologist. For services to Marine Conservation 
Mr Edward David KERSEY – For services to Young People and to the Bideford Boxing Club, North Devon 
Mr Nicholas John MILLINGTON – Director, Safety Task Force Network Rail. For services to the Railway and to the NHS during Covid-19 
Mr Mark Victor Peter RUSTON – Inspector, Devon and Cornwall Police. For services to Policing 
Mr Richard Charles Barrington STEVENS DL – Managing Director, Go South West. For services to Transport and to the community in Plymouth, Devon 
Medallists of the Order of the British Empire (BEM)
Mrs Angela Marie BENNETT – For voluntary service to the community in Plymouth, Devon 
Mrs Andrea Dawn CORRIE – Water Safety Campaigner. For services to Water Safety in the Royal Borough of Kingston upon Thames 
Mr Anthony Marc CUSSEN – For services to Charity and to the community in Plymouth, Devon 
Mr Mark Clive ESCOTT – For services to Education in South West England 
Miss Kerry Ann JAMES – Foster Carer, Plymouth City Council. For services to Fostering 
Reverend Innocent Nathan KIYAGA – Chair, Devon and Cornwall Community Scrutiny Panel, School Chaplain, St Cuthbert Mayne School and Area Dean, Church of England, Torbay. For services to the community in Devon and Cornwall 
Mrs Alison Jane KOHLER – Lately Director of Conservation and Communities, Dartmoor National Park. For services to Conservation in Devon 
Mrs Julia Margaret MEREDITH – For services to the community in Budleigh Salterton, Exeter and East Devon 
Ms Zoe Elizabeth SAYERS – For services to the community in Kent during Covid-19 
Mrs Marilyn Jane WHITEHEAD (MARIE WHITEHEAD) – For services to the community in Dawlish, Devon 
Her Majesty The Queen's Birthday Honours in Devon 2022
Officers of the Order of the British Empire (OBE)
Alexis BOWATER – For services to the Safety and Equality of Women 
Ms Claire Elizabeth DORER – Chief Executive Officer, The National Association of Independent Schools and Non-Maintained Special Schools. For services to Children and Young People with Special Educational Needs and Disabilities 
Dr Helene Theresa HEWITT – Science Fellow Ocean Modelling, Meteorological Office. For services to Climate Science 
Mr Thomas Charles RIVETT-CARNAC – Founding Partner, Global Optimism. For services to Tackling Climate Change  
Mr James TROUT – Manager, Environment Agency. For services to the Support of Young Scientists with Disabilities and to the Covid-19 Response 
Members of the Order of the British Empire (MBE)
Mr Ian James DONOHUE – Assistive Technology Subject Matter Expert, Digital and Technology, Ministry of Justice. For services to Inclusion 
Ms Sara GRIFFITHS – For services to Education 
Ms Jane Margaret JONES – Head of Public Affairs, Great Western Railway. For services to the Railway Industry 
Mr Gregory Michael ROWLAND – Master Wheelwright. For services to Heritage Crafts 
Mrs Iris Muriel SUMPTION – Work Coach, Department for Work and Pensions. For services to Vulnerable People 
Mr John Douglas WELLINGHAM – Founder, The John Loosemore Centre. For services to Early Music Education 
Medallists of the Order of the British Empire (BEM)
Mr Nigel James BROOKS – For services to Musical Theatre and to the Music Industry 
Mr John Stephen BROOKSBANK – Co-founder and Secretary, Paignton Town Community Partnership. For services to the community in Devon 
Mr John DALY – Teacher, Marland Residential School, Devon. For services to Young People 
Mrs Wendy HEATHMAN – School Administrator, United Schools Federation. For services to Education in Devon 
Mr Colin Charles HURST – Co-founder and Secretary, Paignton Town Community Partnership. For services to the community in Devon 
Miss Charlotte Elizabeth MURRAY – Deputy Head of Security and Resilience, Great Western Railway. For services to the Railway Industry during Covid-19 
Lieutenant Commander Carol Ann RASHLEIGH – For services to the community in Plymouth, Devon 
Miss Jaqueline Margaret TUCKER – Team Leader, Environment Agency. For services to the Environment and to Young People
Her Majesty The Queen's New Years Honours in Devon 2022
Commanders of the Order of the British Empire (CBE)
Mr Adrian Charles VINKEN OBE DL – For services to Theatre
Officers of the Order of the British Empire (OBE)
Mr Robin William CALEY –  For services to Tax and Pandemic Support
Members of the Order of the British Empire (MBE)
Dr Rhoda ALLISON –  For services to Physiotherapy
Dr Alan Charles COTTON – For services to the Arts in South West England
Mr Reece DUNN – For services to Swimming
Mr Charles Peter Meredith GIRLING – For services to the Housing Sector and to Charity
Mr Karime HASSAN – For services to Local Government
Mrs Janet Belinda LEFLEY – For services to Education
Medallists of the Order of the British Empire (BEM)
Jill DIPROSE –  For services to Families of Children with Special Needs in Dawlish, Devon
Miss Clare Louise GOLLOP – For services to Victims of Modern Slavery and to Vulnerable Young People
Ms Emma JONES –  For services to the community in Plymouth during Covid-19
Mr Gerald Victor MILLINGTON – For services to Local History in Devon and Hertfordshire
Mr Brian Stanley SMITH – For services to the community in Newton Abbott, Devon, particularly during Covid-19
Mrs Janet Patricia WEBBER – For services to Women in the International Maritime Sector
Mr Max WOOSEY – For services to Fundraising for the North Devon Hospice during Covid-19