Every year we gather on the eleventh of the eleventh, to bow our heads. We look down.
We pay our respects to the men and women across the Commonwealth who gave their lives in the two world wars.
But this year is different. This year at 7pm, we'll look up.
To remember all 1.7 million of them. #ShineOn
Great Western Railway and The Veterans Charity are organising to take poppies to London Paddington railway station for Remembrance Day.
Nine train services will be involved along with more than 60 stations on the Great Western network. Over 100 wreaths are expected to be taken to London including one from D-Day veteran Harry Billinge who recently had a train named after him by Great Western Railway.
The wreaths will be placed on the war memorial on Platform 1 for the service at 11 am.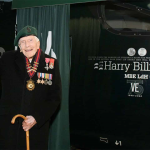 Gordon Evans, Group Captain DL FRAeS WKhM RAF (Ret'd) is honoured to be a Deputy Lieutenant of Devon and a retired Royal Air Force Officer. Gordon come's from family with a long history with the GWR. His father was a signalman for 51 years on the GWR and BR(W). His father, and his grandfather, was also on the footplate on the GWR for all his working life; he was gassed in the trenches of the First World War. Gordon's great grandfather also served a lifetime on the railways, certainly retiring on the GWR, although Gordon is not sure where he started. Although Gordon was not a railwayman, his brother served his apprenticeship with BR(W). Therefore Gordon thinks  his family has over 150 years of service on the railways, mostly on the GWR.
Apart from the great honour of representing the County of Devon, Gordon hopes you can also see that presenting the wreath tomorrow will be  most poignant time for him.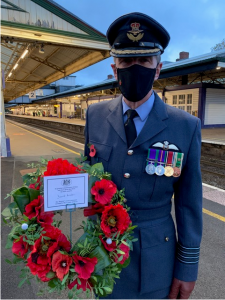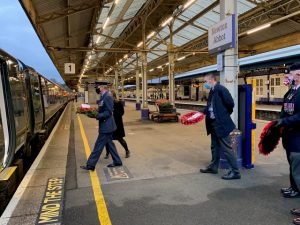 In addition, The Commonwealth War Graves Commission (CWGC) is lighting up the sky above the Royal Naval War Memorial in Plymouth to pay tribute to the 1.7 million Commonwealth war dead as part of its #ShineOn remembrance activities.
Plymouth is one of four CWGC cemeteries and memorials where a searchlight will be beamed into the sky in a 'symbolic gesture that the light of remembrance, even in these dark times, will never be extinguished'.
The light will be visible for miles around and best viewed from a distance, so people are asked to watch from the safety of home and not head to the Hoe. Instead, the CWGC is encouraging everyone to take a moment at 7pm on Wednesday to step outside their homes, look at the stars and remember the fallen.
CWGC's Director General, Mr Barry Murphy, explained: "For more than a century, we have gathered at the same time on the same day, to bow our heads and think of those who sacrificed their lives for ours, during the two world wars. But this year's different.
"Whilst we can't come together in person, we can still make sure their names burn bright. Not just for one day, but for all the days (and nights) to come. So, this year, on Remembrance Day, we'll look up to the stars in our night sky to remember those who fell. All 1.7 million of them.
"I would urge the public to join us by choosing to name a star in remembrance of someone and looking up into the night sky at 7pm on 11 November to remember that person and all those who died during the two world wars. Together, we can make sure their names Shine On."
For more information see the CWGC website.