A ceremony was held at Dawlish War Memorial on Friday 28 June at which the Deputy Lieutenant of Devon unveiled a plaque with 13 names missing from the existing memorial.
For reasons better known a century ago, the memorial did not include, amongst others, a sailor killed at the Battle of Jutland when his ship was sunk without survivors; a Lieutenant Colonel of the Dublin Fusiliers who led his regiment ashore at Gallipoli into a maelstrom of mortar and machine-gun fire; a nurse who lost her life when her hospital ship was torpedoed without warning, and the survivors murdered in the life rafts by enemy gunfire.
After an introduction and brief histories of each person whose name was being added to the memorial, the new plaque was unveiled by Major Colin Pape, MBE, DL, Deputy Lieutenant of Devon. Members of Dawlish Branch Royal British Legion attended with their standards and a bugler sounded the Last Post before silence was observed, and Reveille led to the unveiling and laying of wreaths.
In attendance were members of Dawlish clergy, the Mayor of Dawlish – Councillor Alison Foden, and the Chairman of Teignbridge District Council – Councillor Richard Keeling. The event ended with the National Anthem skilfully accompanied by the bugler.
June 28th was chosen for the plaque unveiling because of two significant events in WW1. On this day in 1914 Archduke Franz Ferdinand and his wife Sophie were assassinated in Sarajevo, contributing to the causes of the outbreak of war. The ensuing conflict ended exactly five years later with the signing of the peace treaty at Versailles.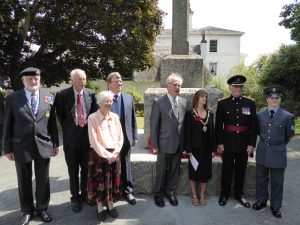 Attached: photograph of Members of DawlishWW1 project, Tom Elliott, Keith Gibson, Ann Leigh, Michael Clayson, Robert Vickery, Cllr Alison Foden – Mayor of Dawlish, Major Colin Pape MBE DL – Deputy Lieutenant of Devon, Lord Lieutenancy Cadet Kit Seale