HRH The Duchess of Gloucester visit to the Ardent Association 27th May
HMS Ardent Association
HMS Ardent was launched in 1977 by HRH The Duchess of Gloucester and after a short career she deployed to the Falklands in 1982 where she was sunk by Argentinian aircraft with the loss of 22 of her crew.
The ships company on their return from the Falklands started the HMS Ardent Association founded by Fleet Chief Tony Ray and Master at Arms Lenny Yeatman. They continued to flourish with the emphasis being on the memory of their fallen shipmates.
The Association management was handed over to Peter Brierley and Richard Gough in 2002 and they have continued to preserve the ethos of the Association. In 2011 they took 22 plaques to the Falklands and in 2015 Peter and Tony collaborated to move the ships anchor to the National Memorial Arboretum (NMA).
This year marks the 35th anniversary of the loss of the Ardent and 250 ships company, family and friends will gather to remember the fallen.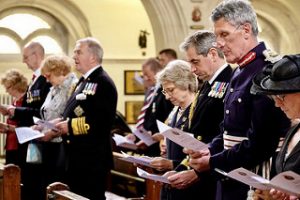 Picture courtesy of Richard Gough