People
Her Majesty's Lord-Lieutenant of Devon, David Fursdon
Biography
HM Lord-Lieutenant of Devon – David Fursdon
David was educated at St John's College, Oxford where he was a scholar and cricket blue. He then worked in the MOD-(arms control and disarmament in Whitehall and at the UN Geneva) before moving with his wife to Devon in 1978, where his family has lived for many years. He taught at Blundells School in Tiverton where he was later to Chair the Governors (2000-2011). He then worked as a rural Chartered Surveyor in Exeter. He chaired the Country Land and Business Association (CLA) firstly in Devon and then nationally as President during a turbulent time through foot and mouth disease when he also promoted South-West produce in Downing St. After this he become a Commissioner of the Crown Estate (serving on energy, audit, remuneration and nominations committees) and then of English Heritage (chairing the business committee responsible, amongst other things, for the re-development of the visitor centre at Stonehenge). After serving on the Board of the SWRDA, he chaired the London 2012 South-west Board before and during the Olympics. More recently he chaired the Government's 'Future of Farming' review (to bring more new entrants into agriculture), DEFRA's SW Rural and Farming Network, Sir James Dyson's farming company and was on the Board of the Historic Houses Association having chaired the Wessex Region. He has supported the NSPCC (chairing the Devon Full Stop Appeal) and affordable housing initiatives (serving on the Affordable Rural Housing Commission and Rural Housing Policy Group). He has run his own businesses in tourism, property, agriculture and consultancy. He was High Sheriff of Devon in 2009.
Vice Lord-Lieutenant – The Rt. Hon. The Countess of Arran MBE VLL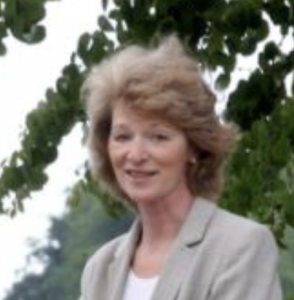 The Vice Lord-Lieutenant is the right hand person to the Lord-Lieutenant supporting him in his duties as Her Majesty's representative in the County and in upholding the dignity of the Crown. This can involve hosting the Royal Family on visits to the County, attending events and meetings to bring together various aspects of work in the county be it voluntary groups, charities, businesses or social networking and encouraging recognition of the hard work of individuals and groups for the good of others through the honours and awards systems. Working closely with the armed forces and emergency services, to understand their work and giving support where appropriate from the Lieutenancy, sometimes taking the salute on behalf of HMQ at parades and other ceremonial events.
The office is held in high honour and any appointment has to be approved by the Queen.
 Deputy Lieutenants
• Robin P Barlow DL
• Richard D Bayly DL
• Philip Bostock OBE DL
• Clare Broom DL
• Lady Mary Burnell-Nugent DL
• Rear Admiral Ric Cheadle CB DL
• Lady Clarissa Clifford of Chudleigh DL
• Cptn. Lord Clifford of Chudleigh DL
• The Hon Mrs D'Erlanger DL
• The Hon. Charles Fane Trefusis DL
• Jim French DL
• Stephen L Hindley  CBE DL
• Vice Admiral Sir Richard Ibbotson KBE CB DSC DL
• Philip Jenkinson  DL
• Antoine Khayat DL LL. B, JP
• Mrs Mary King MBE DL
• Dame Suzie Leather DBE MBE DL MA
• The Hon. George Lopes DL
• William Michelmore DL
• Anthony J B Mildmay-White DL
• Cmdre Jake Moores OBE DL
• Lord Ivar Mountbatten DL
• Mark Parkhouse DL
• Stephen J Pearce  QPM DL
• Mary Quicke MBE, DL
• Lt General Sir Andrew Ridgway KBE, CB, DL
• Mrs Anna Robertson OBE DL
• The Hon. John Rous DL
• His Honour Erik Salomonsen DL
• Rear Admiral Chris A Snow CBE DL
• His Grace The Duke of Somerset DL
• Mrs Patricia Southby-Tailyour JP DL
• Admiral Sir Mark Stanhope GCB OBE DL
• Sir Hugh Stucley Bart DL
• Sir Henry Studholme Bart DL
• Mrs Julia Tremlett DL
• Mrs Christina Williams DL
• Wing Commander Brian W Wills-Pope MBE DL
• Nigel J Wollen DL
• Brigadier Simon D Young CBE DL
To find out more information please see Deputy Lieutenants of Devon.
Deputy Lieutenant Badge